9 January, 2021
The power of green energy in Vietnam
With the characteristics of zero emissions, no waste and also using endless renewable energy sources, solar power projects in Vietnam that have been actively implemented will bring expectations of great changes. for the industry to thrive in this period.
Deputy Minister of Industry and Trade Cao Quoc Hung said that over the past 20 years, Vietnam has achieved an impressive 6-7% growth in gross domestic product (GDP). But on the other hand, electricity demand increased by over 13% in the period 2000-2010; over 11% in the period 2011-2016; by 2018 it is over 10%. Continuously increasing electricity demand creates great pressure on investment in power generation capacity, as well as transmission and distribution systems. Forecasts show that from now until 2030, the Vietnamese economy will continue to grow at a high rate of 6.5-7.5% per year, so high priority must be given to ensuring demand demand for energy.
Tốc độ tăng trưởng GDP của Việt Nam từ 1986 – 2017
Until now, our country's manufacturing economy has largely depended on Hydropower and Thermal power. At present, although the power supply from hydropower is considered to be relatively clean, it changes erratically because the hydrological regime is too dependent on weather and the flow regulation of the upstream neighbors . Meanwhile, thermal power is an unclean source of production when fossil energy consumption is running out and produces a lot of CO2 which affects the environment. Therefore, finding an alternative energy source with large reserves and friendly with the environment is extremely necessary.
Fossil fuels are slowly running out due to overuse
  Vietnam is a country with a tropical monsoon climate, so it is considered to have great potential for solar energy with the average number of sunny hours in the year ranging from 1700 to 2500 hours / year. With the solar radiation intensity of approximately 4.6 kWh / m². The day promises a large output of electricity, so in the past few years, many investors in solar power have come to exploit the endless energy source.
Regions of Vietnam

Sunny hours of the year

Solar strength per square meters in a day

(kWh/m2. day)

Quality

Northeast

1600 – 1750

3,3 – 4,1

Medium
Northwest

1750 – 1800

4,1 – 4,9

Medium
North Central Coast

1700 – 2000

4,6 – 5,2

Good
Central Highlands và South Central Coast

2000 – 2600

4,9 – 5,7

Excellent
South

2200 – 2500

4,3 – 4,9

Excellent
National Average

1700 – 2500

4,6

Good
Table of data on solar radiation in Vietnam (provided by the General Statistics Office)
According to data from the Ministry of Industry and Trade, as of April 30, 2019, the country had 120 large-scale solar power projects added to the national electricity planning map. The roof-mounted solar power project alone is about 850 projects with a total capacity of 14.2 MWp and is gradually expanding this model across the country with a strategic vision to 2030.
The ministry also promoted the promotion of purchasing electricity priced from 6.94 to 9.85 UScent / kWh according to the level of regional division, much higher than the price of 5-7 UScent / kWh in developed countries. There are also many tax incentives and land bank that are very attractive to foreign power generation investors. Such natural, favorable and harmonious conditions have created a wave of investment in electricity production. into Vietnam in recent years.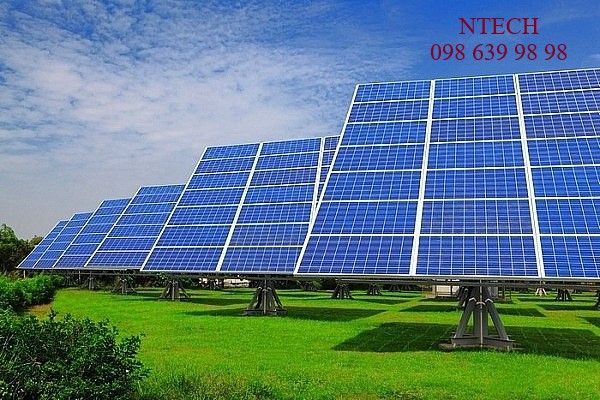 Solar power project in Quang Ngai
  To develop the solar power network; Policies need to be synchronized with production materials – in other words, the infrastructure and equipment of the power sector must also keep up with the trend. This requires selecting contractors capable of supplying and installing essential base products with high quality.